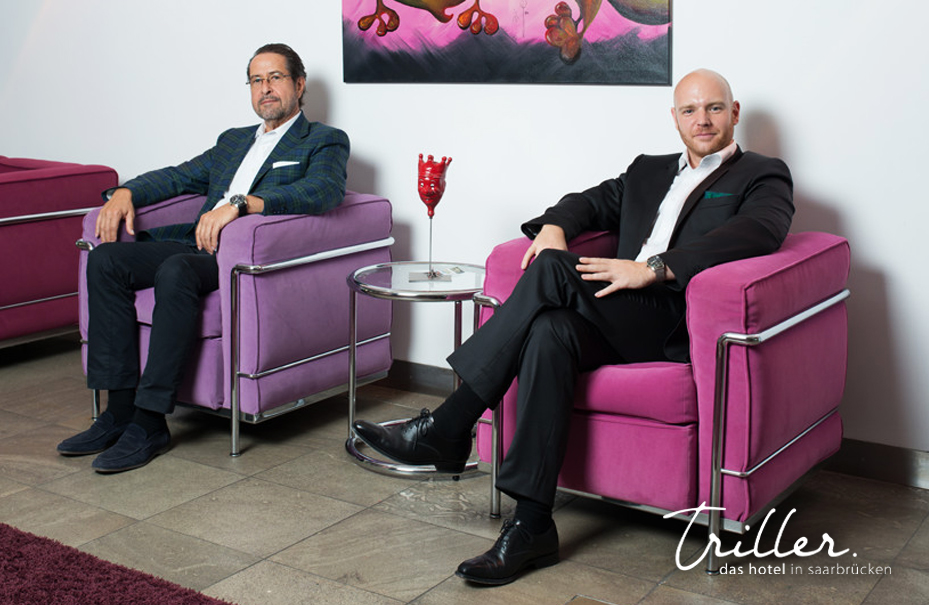 A relaxed atmosphere, friendly and hospitable service as well as culinary delights have a long tradition in our hotel. As a private hotel run by the third generation of the same family, our well-trained team knows your requests as tourists: our Hotel Am Triller, surrounded by nature, epitomises relaxation and comfort.
Look forward to an artful, unique ambiance and relaxation on the highest level, combined with delicious cookery. We will make your stay in Saarbrücken as enjoyable as possible.
#haveanicestay
Michael Bumb  & Björn Gehl-Bumb 
Location & How to get here
The quiet yet very central location of our hotel enables you to make the most of the local recreation facilities of this border city. You can continue to relax in the hotel as well: Our in-house swimming pool with sauna, a restaurant or the option to bring along your pet – all that makes relaxing in Saarbrücken a particularly wonderful and memorable event when you stay at the Hotel Am Triller! 
Saarbrücken, the capital city and only city of the Saarland, has so much to offer – discover it's hidden gems on a sightseeing tour through Saarbrücken and the surrounding area, and spend the night in one of the most beautiful hotels close to the French border!